When you open a Mobipocket ebook with DRM protected, You need input the PID to decrypt it. The PID is generated by Mobipocket vendor against your Reading device or PC. You must add your PID in your device list on Mobipocket.com with your account. After then, you can download you purchased ebook which is encrypted by this PID to read, I will introduce how to get the PID and how to add your PID in your device list.


1. How to get the PID?

As we said before, the PID has two types: one is PC PID, another is Reading device PID(e.g: mobile phone, kindle device). We divide them since the PC PID is easy and available for everyone.
Mobipocket.com provides reader on many platform. e.g: Windows, Window Mobile, Symbain, Palm, Blackberry and so on. We can download it from here:
http://www.mobipocket.com/en/DownloadSoft/default.asp?Language=EN
according to your device. When you install them on your device, you can find your device PID in reader. Unfortunately, Mobipocket.com has no reader on android, so we can't get the PID for our android device. But no matter. we can use other devcie PID or PC PID with iReader. And then, I will explain how to get PC PID in detail.

1) Install Mobipocket Reader of PC version from Mobipocket.com.
2) Open Mobipocket Reader and click the "Reading Device". (see the mouse pointer on the following diagram)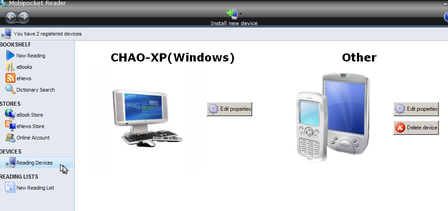 3) As the above picture showing, you will see a computer with your computer name displayed on the right pane. Click the "Edit properties", You will see a new window as the following diagram. In this window, You can find the "Device PID(Personal ID):" item and get the PC PID. For this picture the PC PID is: V1JG6R3$1C. That is our want. Remember it.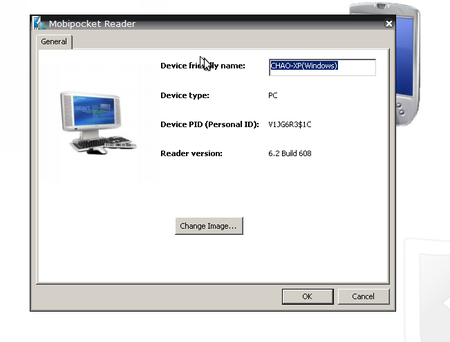 2. Add your PID in device list.
When you get PID, You need add in your device list on Mobipocket.com so that they can know which PID you have and how to encrypt you purchased ebooks.

1) Login in Mobipocket.com with your account. If you have no account, please register.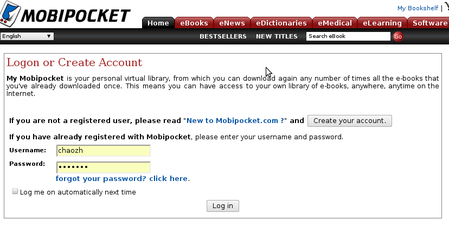 2) Click "My Device List" to show your device ID. Please see the mouse pointer on diagram.



3) When you enter the Device list page, you can mange your device PID now. You can add a new one or remove the old PID. Mobipocke.com allow you register 4 device PIDs at the most.
In "Add a New Device", you need input the new PID, select the right type and give a new name for it. And then click "Go" picture to add.


4) When you add a new device PID, you need re-download you purchased ebook so that you can use this new PID to decrypt it. It is very import. If you still use old downloading version, The decryption will be failed with new PID.
Click "My ebooks" to browse you purchased ebooks and re-download what you want to read with iReader.